A great void is left in the DA-IICT community, Shri Soman Nair, Executive Registrar, who passed away yesterday at 5.30 AM.
We will hold a condolence meeting today at 4.30 pm, LT 1, DA-IICT Gandhinagar. to mourn the sad demise.
Obituary:
With profound sorrow, we inform you of the demise of our Executive Registrar, Shri Soman Nair. He breathed his last at 5:30 am in Sterling Hospital, Ahmedabad, on 7th June 2022, after a brief illness. Mr Nair joined DA-IICT as Executive Registrar in 2012, and since then, he has been leading the administrative duties with inimitable compassion, kindness and dedication. He was always approachable and accessible to students, parents, staff and faculty members alike. He was soft-spoken and always found time to look into any issue that was brought to his notice.
Before joining DA-IICT, Mr Nair had an illustrious administrative career. He provided leadership to many institutions of repute. Mr Nair had degrees in Economics and Law. He was Head of Administration at the Centre for Development Studies (CDS), Trivandrum, for 24 years. He was Chief Administrative Officer at the Institute of Rural Management Anand. Also, he was officer-in-charge of a capacity building programme sponsored by the United Nations and the Policy Cell at the National Dairy Development Board, Anand.
The DA-IICT community will deeply miss his warm persona and his smiling countenance. Our thoughts and prayers are with Mr Nair's family; may they be provided with the strength to bear this loss.
08/06/2022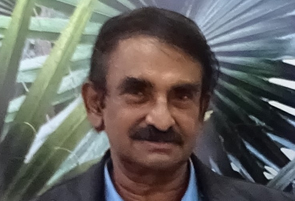 Condolence Meeting - Mr. Soman Nair, Executive Registrar