High End Workshop
on
Hardware Assisted Security for Fog Computing based IoT Networks
(11th – 17th July 2022)
(under the Karyashala Scheme – A SERB initiative)
DA-IICT is hosting high-end workshop on Hardware Assisted Security for Fog Computing based IoT Networks from 11th July 2022 – 17th July 2022. The course aims to introduce the basic concepts of hardware security followed by its applications in the area of fog computing in the IoT paradigm.
The workshop will be highly beneficial to the students and researchers working in the area of VLSI, Embedded systems, Computer Architecture, Hardware Security, Cloud/Fog Computing, HDL – Verilog, FPGA.
The travelling allowances, fooding and accommodation of the participant will be borne by the workshop as per the institute norms. There is no registration fees.
Event Organizers: Dr. Yash Agrawal and Dr. Sreeja Rajendran, DA-IICT Gandhinagar
The workshop Brochure is available here
Click here to register
https://forms.gle/tzDJmSifFMoksdch8
For more information, Click here
11/07/2022 - 17/07/2022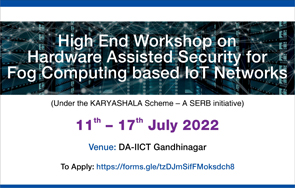 High End Workshop on Hardware Assisted Security for Fog Computing based IoT Networks