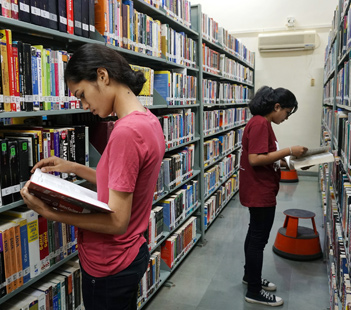 Resource Centre (RC), the Library of DAIICT, connects the user to its relevant information resources. It serves as an innovative partner in teaching, learning and research activities. RC is housed in its wi-fi enabled two buildings covering an area of about 16000 square feet which can accommodate about 300 users at a time. The RC has a rich and diverse collection of about 31020 books, 11230 e-books, 5674 e-journals, 78 print journals, 10 databases, 663 theses and 3913 audio visual material in the ICT, social science and humanities. This collection can be searched by a web-enabled online catalogue. The students can also browse and access the various electronic resources such as e-journals, e-books and databases using the dedicated terminals in the reading zones. RC offers language learning as well.
RC remains open as follows:
9 am to 9 pm during the semester
9 am to 2 am during the semester examinations
9 am to 6 pm during the vacation period.
RC brings to the notice of the student's advanced studies in India and abroad, training, skill development and certification programs regularly to enhance their knowledge.
RC has resource sharing a collaboration with Information and Library Network (INFLIBNET) and National Digital Library of India (NDLI). The inter-library loan and resource sharing are a part of external reach services. RC also preserves and archives the internal (faculty and students) publications and institutional events records for posterity and further dissemination.
You can visit the website here.