DA-IICT offers two unique four-year undergraduate programs leading to the degrees of :
Bachelor of Technology in Information and Communication Technology – B.Tech. (ICT)
Bachelor of Technology (Honours) in ICT with minor in Computational Science – B.Tech. (Honours) in ICT with minor in Computational Science.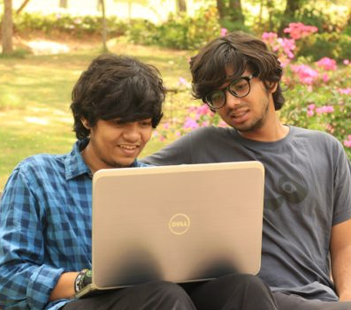 The ICT embodies the convergence of Computer and Communication systems and has obtained wide acceptance as a distinct discipline. It is also expected that ICT graduates would enjoy a special niche only if they have certain performance capabilities not found in conventional CSE and/or ECE graduates. Logically this convergence takes place at the systems level, but at the same time it is necessary to accept a certain level of granularity as one goes down to the level of circuits, devices and materials. All programs are designed to operate on a semester-based framework that follows choice-based credit system.
The B.Tech. (ICT) program provides a choice to students who can be graduated with either the B.Tech. in ICT or the B.Tech. (Honours) in ICT degree. While the core foundational courses remain the same, the degree of B.Tech. (Honours) in ICT requires a student to complete a minimum of 15 additional credits (five additional courses) in electives basket. The flexibility to choose honours qualified elective courses will get started from the fourth semester of the program. The detailed course requirement and nature of electives can be found in the program courses page.
The Programme Educational Objectives (PEO) are to:
Nurture students with a strong foundation of core principles in ICT, and knowledge in Basic Sciences and Humanities courses, by which they can solve and analyze real-world problems.
Provide students with the necessary theoretical background and practical knowledge to work professionally as software and hardware engineers, analysts, research scientists, entrepreneurs, developers, and project personnel.
Provide exposure to visualize societal real problems through compulsory Rural internship and Research/Industrial internship, which help a student solve practical problems with effective skills gained through the innovative curriculum designed for this programme.
Provide confidence to work on emerging research areas in ICT discipline in industry, organization, and other institutions.
Prepare students for a successful career in industry and institutions, and work with values and societal needs.
The Programme Outcomes (PO) set the following goal:
After the successful completion of the BTech (ICT) programme, students will have:
Necessary technical skills for solving real-world problems in the field of ICT domains.
Ability to demonstrate excellent programming, analytical aptitudes, logical abilities and problem solving skills that would bridge the digital divide between the urban and the rural areas.
Ability to use modern engineering tools and technologies necessary for engineering practice in industry.
Ability to acquire social and ethical attributes that enable them to apply their experiences in societal needs.
Ability to communicate effectively both orally and written.
The course structure of the curriculum is broadly classified into four categories.
Foundation or Core Courses
Set of compulsory courses taken by every student for first five semesters. These courses are from the technical areas of Computer Science and Information Technology, Electronics and Communication, as well as courses in Humanities, Mathematics and Basic Sciences
Elective Courses
These courses add to both, the technical strength and humanities and social science skills of the program. The students can choose the elective courses from the available ones from fifth semester onwards. The elective courses are grouped into the following categories
ICT Electives
Technical Electives
Humanities and Social Sciences Electives
Science Electives
Open Electives
Internships and BTech Projects
Students will do a rural internship during the third semester winter break at NGO or Government Organization. The students will do an industrial or research internship during the summer break in the end of their 6th semester. Finally the student will take a semester long on-campus project (BTP) or the off-campus project – Industrial Training Project (ITP).
Co-curricular Activities and Exploration Project
Co-curricular activities are non-class activities like sports, cultural and technical club activities. These courses run over the first four semesters and are graded Pass/Fail.
Exploration projects allow students to explore their surroundings to identify interesting problems that admit a design based and/or hardware based solution and make such a product by leveraging the introduction to ICT skills learnt in the first semester. Students are expected to work in groups of 8 to 10 under a faculty mentor over two semesters - second and third semester. This course will be graded on a Pass/Fail basis.
A unique feature of the program is the mandatory rural internship, which is expected to give the student a feel of his/her social milieu and is typically carried out with an NGO and Govt. organizations. The rural internship is offered in the Winter break after the 3rd semester. After the completion of foundation courses, the student is required to take a 6-8 week mandatory industrial/research internship, which is offered in the summer break after the 6th semester. The student has a choice of taking an industrial internship or a research internship depending on his/her career goals. The student is required to take at least a semester long BTech project (BTP), during which he/she is required to demonstrate his/her ability to learn current areas of research and/or industrial interest. Furthermore, a student has option to do BTP as on-campus or off-campus mode, where the on-campus mode allows the student to explore his/her research interest under the supervision of a faculty, whereas the off-campus mode allows the student in getting exposure to industry and/or other R&D organizations/universities.
Most of the foundation courses are offered in the first four semesters and a part of the fifth semester. These courses are from the technical areas of Computer Science and Information Technology, Electronics and Communication, as well as courses in Humanities, Mathematics and Basic Sciences. In the remaining 3 and a half semesters, students take elective courses and do internships and projects.
The curriculum accommodates 148 credits, out of which 129 credits for courses and 19 credits for internships and project work. In addition, there are 6 credits for Co-curricular Activities courses and Exploratory Projects. Out of the 129 required coursework credits, 90 credits are allocated to compulsory courses (Foundation courses) and 39 credits are allocated to four kinds of electives (12 credits are allocated to ICT electives, 12 credits to Technical electives, 6 credits to Science electives, 3 credits to HASS elective and 6 credits to Open electives), which the student can choose according to his/her inclination and interest. Honours students also take additional five courses from the designation basket and obtain a minimum of 15 credits.
Semester-wise course sequence
Each course is associated with a fixed number of credits. Credits are awarded on an L-T-P-C system (C=L+T+P/2) per semester, that is, the number of contact hours for Lectures (L), Tutorials (T) and Practical (P) in a week. Nominally, since a semester has around 13–14 weeks of classes, therefore, a 3 credit lecture course would amount to approximately 40 lecture hours in a semester.
Semester I
| Semester-1 | L-T-P-C |
| --- | --- |
| Introduction to ICT | 1-0-2-2 |
| Language and Literature | 3-0-0-3 |
| Calculus | 3-1-0-4 |
| Introduction to Programming | 3-0-0-3 |
| Programming Lab | 0-0-2-1 |
| Basic Electronic Circuits | 3-0-2-4 |
| Co-curricular Activities-1 | 0-0-2-1 |
| TOTAL | 17 |
Semester II
| Semester-2 | L-T-P-C |
| --- | --- |
| Approaches to Indian Society | 3-0-0-3 |
| Discrete Mathematics | 3-1-0-4 |
| Digital Logic and Computer Organization | 3-0-2-4 |
| Data Structures | 3-0-0-3 |
| Data Structures Lab using OOP | 1-0-2-2 |
| Electromagnetic Theory | 3-1-0-4 |
| Exploration Project | 0-1-0-1 |
| Co-curricular Activities-2 | 0-0-2-1 |
| TOTAL | 20 |
Semester III
| Semester-3 | L-T-P-C |
| --- | --- |
| Science, Technology, Society | 3-0-0-3 |
| Linear Algebra | 3-1-0-4 |
| Design and Analysis of Algorithms | 3-1-0-4 |
| Computer Systems Programming | 3-0-2-4 |
| Signal and Systems | 3-0-2-4 |
| Exploration Project | 0-0-2-1 |
| Co-curricular Activities-3 | 0-0-2-1 |
| TOTAL | 19 |
Semester IV
Semester-4
L-T-P-C
Principles of Economics
3-0-0-3
Probability and Statistics
3-1-0-4
Database Management System
3-0-2-4
Embedded Hardware Design
3-0-2-4
Introduction to Communication
Systems
3-0-2-4
Honours-1 (elective course)
3-0-2-3
Co-curricular Activities-4
0-0-2-1
TOTAL
19+3
Semester V
| Semester-5 | L-T-P-C |
| --- | --- |
| Software Engineering | 3-0-2-4 |
| Digital Communications | 3-0-2-4 |
| Computer Networks | 3-0-2-4 |
| ICTE-1 | 3-0-2-4 |
| TE-1 | 3-0-0-3 |
| Honours-2 (elective course) | 3-0-0-3 |
| TOTAL | 19+3 |
Semester VI
| Semester-6 | L-T-P-C |
| --- | --- |
| Environmental Science | 3-0-0-3 |
| SE-1 | 3-0-0-3 |
| ICTE-2 | 3-0-2-4 |
| TE-2 | 3-0-0-3 |
| TE-3 | 3-0-0-3 |
| Honours-3 (elective course) | 3-0-0-3 |
| TOTAL | 16+3 |
Semester VII
| Semester-7 | L-T-P-C |
| --- | --- |
| BTP-1 | 0-1-6-4 |
| ICTE-3 | 3-0-2-4 |
| TE-4 | 3-0-0-3 |
| HASSE-1 | 3-0-0-3 |
| SE-2 | 3-0-0-3 |
| Honours-4 (elective course) | 3-0-0-3 |
| TOTAL | 17+3 |
Semester VIII
| Semester-8 | L-T-P-C |
| --- | --- |
| BTP-2 | 0-2-12-8 |
| OE-1 | 3-0-0-3 |
| OE-2 | 3-0-0-3 |
| Honours-5 (elective course) | 3-0-0-3 |
| TOTAL | 14+3 |
ICTE: ICT Elective; TE: Technical Elective; HASSE: Humanities and Social Science Elective; OE: Open Elective; BTP: BTech Project
Representative list of electives
Graph Theory and Algorithms
Approximation Algorithms
Computational Complexity
Randomized Algorithms
Quantum Computing
Introduction to Cryptography
Blockchain and Cryptocurrencies
Adversarial Machine Learning
Machine Learning and Security
Introduction to coding theory and Applications
Compiler Design
Digital Image Processing
Internet of Things
Digital Signal Processing
Statistical Communication
Wireless System Design
RF and Antenna Engineering
Microwave Propagation
Control Theory
Human Computer Interaction
Data Mining and Visualization
Human Computer Interaction
Natural Language Processing
Natural Computing
Software Engineering
Optimization
Computational Financial
Modern Algebra
Software Project Management
Specification and Verification of Systems
Models of Computation
System and Network Security
No SQL Database
Web Data Management
Speech Technology
Deep Learning
Recommendation Systems
Intro. to AI
Intro to Data Science
Introduction to Robotics
Introduction to Complex Network
Stochastic Simulation
Computational Number Theory
Einstein's Physics
Operating Systems
Nanoelectronics
Introduction to VLSI Circuits
Analog IC Design
Logic for Computer Science
Modern European Philosophy
Art: Ideas and Perspectives
Human Behaviour Management
Culture, Politics, Identity
Organisational Behaviour
Publics in South Asia: Contemporary Perspectives
Systems, Policies and Implications
Application Process
Details on the application process, admission criteria, fee structure and financial assistance can be found here