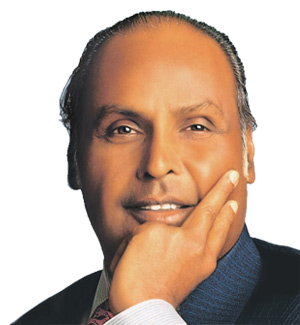 Late Dhirubhai H Ambani (1932-2002)
Few men in history have made as dramatic a contribution to their country's economic fortunes as did the founder of Reliance, Sh. Dhirubhai H Ambani. Fewer still have left behind a legacy that is more enduring and timeless.
As with all great pioneers, there is more than one unique way of describing the true genius of Dhirubhai: The corporate visionary, the unmatched strategist, the proud patriot, the leader of men, the architect of India's capital markets, the champion of shareholder interest.
But the role Dhirubhai cherished most was perhaps that of India's greatest wealth creator. In one lifetime, he built, starting from the proverbial scratch, India's largest private sector enterprise.
Intellectual competitiveness is critical to India achieving global leadership in the information age. To build intellectual competitiveness, investment in education is an imperative. Technology education is critical because technology is impacting life, living and living systems like never before. Thus, technology education is like a cradle to global leadership.
India can exploit the spiralling need for technology professionals and change her economic and social landscape dramatically. India's present technology professional resource base is grossly inadequate. India will need to create ten times the current resource base to succeed in the knowledge economy.
The Dhirubhai Ambani Institute of Information and Communication Technology (DA-IICT) is inspired by this vision of building intellectual competitiveness for India.