IT Infrastructure
DA-IICT has modern eco-friendly, fully networked campus with 1GBps Internet link from NKN and 1GBps Internet link from Tata Teleservices and 10GBps Server-farm connectivity Campus LAN infrastructure with 1GBps optical fiber cable connectivity between various buildings with four L3 Manageable switch and around 75 L2 manageable/unmanageable network switches. Wireless network setup consists of 143 access points spread over various campus locations being managed at a centralized location using Ruckus 1200/SZVC series zone controllers.
There are over 1300 Desktop PCs and 75 Laptops deployed for use of faculty and staff. DA-IICT has its own Datacenter with 30 servers and with 10G switch for server farm to provide various IT services like email, web hosting, files sharing and software license management, campus management, Imaging of PCs, HPC cluster and other services. The Institute uses server consolidation and virtualization techniques to reduce power requirements. The Institute also uses open source online learning management for course content hosting and submission of assignment.
The IT Helpdesk Team consisting of six well trained engineers extends assistance and support to users. Besides, the well trained Laboratory and technical staff provide assistance for the students and faculty to perform various experiments in Laboratories. The details on the existing hardware and software are as follows:
High Performance Computing Cluster
Institute has a setup of five node (1 master and 4 compute nodes; 2 compute nodes are GPU enabled) HPC cluster for B.Tech ICT Computational Science (CS) program. The cluster is equipped with a 40GBps SAN switch. Scientific Linux, 7.1 OS is used to build the HPC Cluster tools like Torque, Open MP, Ganglia. The HPC also consists of various other open source development tools.
Server Virtualization
The software, VMWare ESXI & IBM Blade Center HS23 with two Blades (with Inbuilt storage) is used to achieve server virtualization benefits which include cost reduction, better storage management, granular scaling and power savings.
Computing setup for Research Work
Institute has created a computing setup comprising of eight computing servers to facilitate the research work of Faculty, M Tech and PhD scholars. The servers operate on Scientific Linux 7.1. Of these eight servers, three are set up with high-end GPU.
Unified Network Storage (EMC Vnxe3200)
EMC Vnxe-3200, as network attached storage, is configured to facilitate file sharing using AD authentication & FTP access to user 's home directory. It supports multiple access protocols, compression De-duplication and snapshots. It can also be used as VMware storage. It also has inbuilt web-based Management for monitoring, configuring and system settings with host base access for better security.
Enterprise UTM Firewall
Sophos UTM Enterprise grade Firewall is used for internet authentication, gateway level anti-virus and anti-spam scanning, web and application filter policy, virtual Hosting of web services, internet bandwidth management. The firewall is configured for two internet lease lines. 1GBps line from NKN & 1GBps line from Tata Teleservices.
DA-IICT Network Diagram: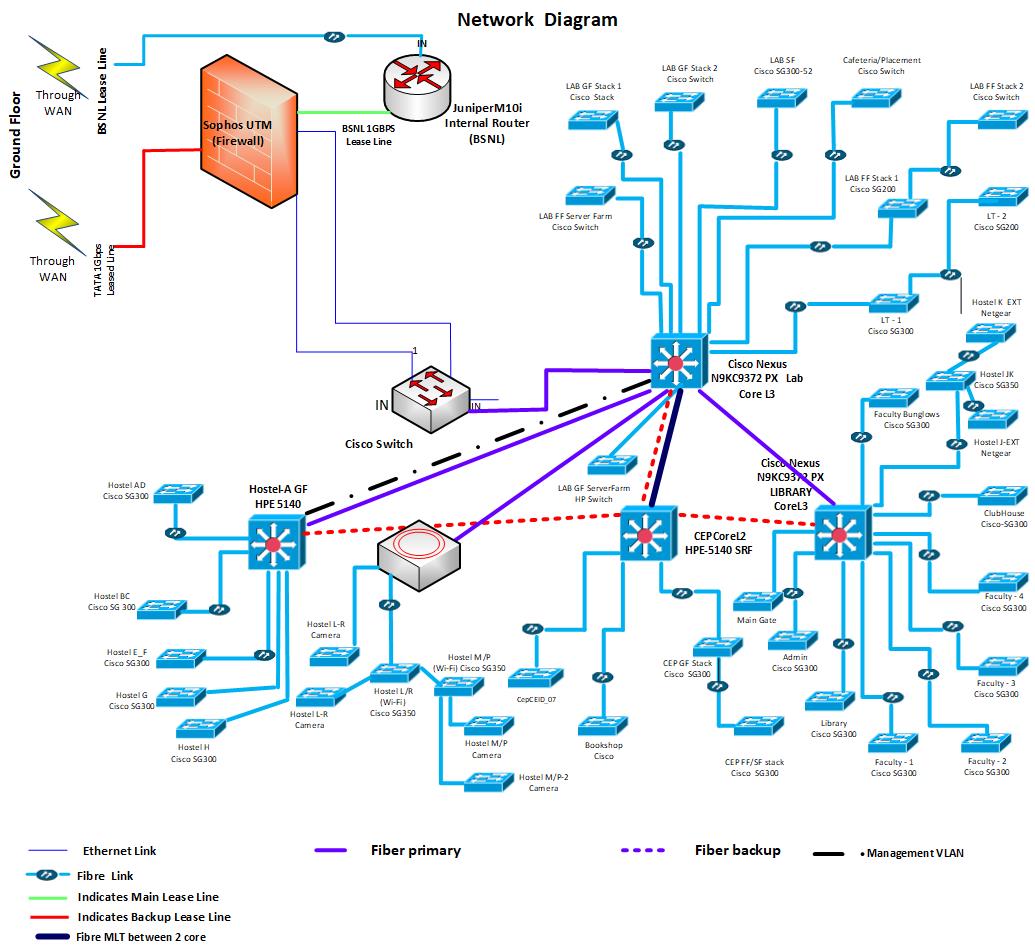 Green Computing:
DA-IICT has adopted various schemes for green computing. All our servers have monitor blanking to conserve power. The Lab systems are configured with hibernate feature to save power when not in use. The printers dedicated for common use go into sleep mode when inactive. The server consolidation and virtualization techniques are used to reduce power usage.
Computer-student ratio : 1 : 1
Dedicated computing facilities: virtualization is being used to provide computer nodes to faculty for research as and when required.
LAN facility: Campus-wide LAN with 1GBps fiber backbone connectivity from core to distribution switch.