Vision
To help build a knowledge-led society founded on intellectual competitiveness for global leadership.
Mission
To become a first choice academic institute having high caliber students, a dynamic faculty, a sensitive administration, functioning within an atmosphere of innovative research, emphasizing academic cooperation and global collaboration. To nurture graduates to be civically engaged individuals who recognize their responsibility and role in their communities and the world.
Quality Policy
To pursue global standards of excellence in all our endeavors, namely, teaching, research, consultancy and continuing education focusing on Information and Communication Technology (ICT) and allied areas. To remain accountable in our core and support function, through processes of self-evaluation and continuous improvement.
Accreditation
The National Assessment and Accreditation Council, Government of India has accredited DA-IICT with an 'A' Grade in 2017.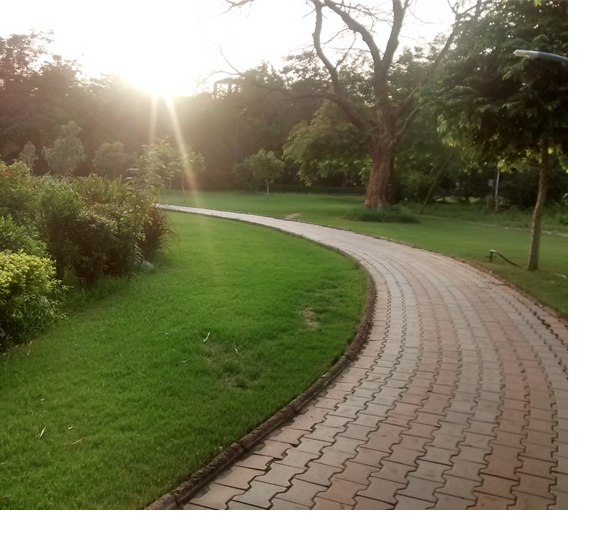 History
Dhirubhai Ambani Institute of Information and Communication Technology (DA-IICT), Gandhinagar represents Wave-4 of educational innovation in Gujarat.
The first wave was the nationalist wave and led to Gandhian experiments in education including Nai Talim. The Gujarat Vidyapith established in 1920 was a hybrid model of a University based on Gandhian principles.
The second wave led to the establishment of a whole range of educational institutions in Gujarat, mainly private colleges.
The third wave, an inspired one, was spearheaded by the Industrialist Kasturbhai Lalbhai and the Scientist Vikram Sarabhai and led to the establishment of a network of national institutes of international renown. A whole array of remarkable intellectuals provided the leadership of these Institutes.
It was in Wave 4 when the focus shifted to higher education and private participation. One of the Institutes created during this period is DA-IICT in 2001. It is the only advanced research and teaching Institute named after the Late Dhirubhai Ambani, the founder of Reliance Group.
DA-IICT is spread over 50 acres of land in Gandhinagar, Capital City of Gujarat. The DA-IICT campus is caringly planned and designed as an environmentally conscious campus in the country. The architecture of DA-IICT is functional, but what surrounds it is a fascinating garden. The entire design is oriented towards preserving the environment. The campus with trees, lawns and bushes bearing green leaves and exotic flowers surrounding the buildings and pathways instils environment consciousness among students and enrich their learning. The campus also has a herb garden with species of rare medicinal plants. The landscape was planned and developed in a manner that no rainwater is lost. The irrigation for campus garden and lawns is carried out with recycled water. Its solid waste management system churns out organic fertilizer out of dry leaves, vegetable and food waste generated from food courts.
The campus is a haven for bird-watchers, with a variety of species of birds being spotted.
DA-IICT can be reached in about 30 minutes from Sardar Vallabhai Patel International Airport and the Central Railway Station located in Ahmedabad.
The Act No. 6 of 2003 of the Gujarat Legislature provided for the establishment of the DA-IICT and conferred on it the status of a University. (Gujarat Government Gazette Volume XLIV, Thursday, 6 March, 2003)
On 30 November 2004, the DA-IICT was included in the list of Universities maintained by the University Grants Commission under Section 2(f) of the UGC Act, 1956.
DA-IICT is a member of the Association of Indian Universities (AIU) as approved by the AIU at its 84th Annual Meeting held during 12-14 November 2009.
Milestones
20 August 2015MoU with INFLIBNET Centre to participate in digital depository of "Shodhganga: A reservoir of Indian theses".

July 2015GHRDC-CSR Engineering Colleges Survey 2015 has ranked DA-IICT at no. 07 all over India among Engineering colleges of super excellence.

31 May 2015The Week – Hansa Research – Engineering college survey 2015 has ranked DA-IICT at 07 all over India in Non-Government Technical Universities.

31 May 2015Dataquest-CMR Top T-Schools Survey 2015 ranked DA-IICT as 04 all over India in Top Private T-Schools.

20 January 2015Prof. R Nagaraj assumes additional charge of Director, Indian Institute of Information Technology Vadodara based on the MoU signed between DA-IICT and the Government of Gujarat.

20 January 2015Prof. R Nagaraj takes over as Director from Prof. SC Sahasrabudhe.
03 November 2014MoU with InstitutSuperieurD'Electronique De Paris (ISEP), InstitutCatholique De Paris (ICP), France for exchange of faculty, students, conduct double degree programs and joint research.

20 October 2014Agreement with Reliance Communications Limited to establish a Research Chair in Computational Science at DA-IICT .

June 2014GHRDC-CSR Engineering College / Institute Survey 2014 ranked DA-IICT as 3 all over India in the Private Engineering Colleges section.

27 March 2014Dataquest-CMR Top T-Schools Survey 2013-14 ranked DA-IICT as one of the top ten technology schools in the country second time.

26 January 2014Professor Ganesh Devy conferred upon with the 'Padma Shri' Award in the field of Literature and Education.
16 December 2013Conferred 'Embedded/VLSI Industry-Academic Institution 2013 Leadership Award' instituted by the Silicon India and Mentor Graphics Corporation, a leader in electronic hardware and software design solutions.

31 November 2013Mou with Indian Navy to sponsor Naval Officers for M.Tech and PhD programmes, and joint training, research and development projects.

16 October 2013The Institute of Electrical and Electronics Engineers (IEEE) awarded DA-IICT the 'Outstanding IEEE Student Branch Chapter Award 2013.'

21 July 2013Launched B Tech (Honours) Program in ICT with Computational Science as minor.

01 June 2013MoU with the Government of Gujarat to mentor Indian Institute of Information Technology Vadodara set up by the Government in Public Private Partnership mode.

22 March 2013MoU with eiTRA-eInfochips Training & Research Academy to train eiTra-eInfochips employees and conduct academic programs at Ganpat University.

29 January 2013MoU with International Crops Research Institute for the Semi-Arid Tropics for joint research, training and teaching, exchange of students and researchers and explore jointly external funding for research.
27 December 2012MoU with Ramakrishna SaradaSevashram, Bastar for doctoral studies, develop and support joint research programs and conduct specialized courses.

15 December 2012DataQuest CMR T-School survey 2012 ranked DA-IICT as one of the top ten technology schools in the country.

02 July 2012MoU with Indian Institute of Technology, Gandhinagar for joint teaching and research.
May 2011EFY survey of top 50 Colleges ranked DA-IICT at 4th position on all India basis.
08 December 2010MoU signed with the Tata Consultancy Services for TCS Research Scholarship Program.

16 June 2010Hindustan Times survey on top 50 Private Engineering Colleges ranked DA-IICT at the 5th position on all India basis.

08 June 2010ABP School National B-School award for outstanding Engineering Institute (West).

08 January 2010MOU signed with Space Application Centre to conduct joint research and sponsorship of Officers for PG Programs.
29 September 2009MOU signed with Ericson India Limited for training of DA-IICT students.
31 July 2008A delegation from Carnegi Mellon University visits DA-IICT.

13 June 2008Hindustan Times survey on Top 30 Private Engineering Colleges ranked DA-IICT at 10th position on an all India basis.
07 August 2007Signing of MOU with MANAGE, Hyderabad.

11 June 2007DA-IICT was ranked 05 all over India in the Annual Outlook-Cfore College Survey of India's Top Professional Colleges.

02 June 2007Signing of a Service Contract with King Saud University, Riyadh.

27 February 2007Signing of a MOU with University of Regina, Canada.

11 January 2007Signing of a MOU with Wildlife Institute of India, Dehradun.
20 June 2006Signing of Application Development and Distribution Agreement with Reliance.

06 May 2006Signing of a MOU with InstitutSuperieurD'electronique De Paris (ISEP), France.
20 September 2005Signing of a MOU with University of Antwerp, Holland.

01 March 2005Prof. S.C. Sahasrabudhe takes over from Prof. ArvindKudchadker as Director of the Institute.
13 December 2004A Team of University of George Tech, USA visits the Institute.

30 November 2004DA-IICT gets recognition u/s 2(f) of the UGC Act, 1956 through a Notification of the UGC.

21 August 2004UGC Team Visits DA-IICT for its recognition.

18 August 2004Signing of a MOU with International Crops Research Institute for the Semi-Arid Tropics (ICRISAT), Hyderabad.

09 August 2004One more PG program- M Des (Multimedia)- commences.

10 March 2004Signing of a MOU with Central Electronics Engineering Research Institute (CEERI), Pilani, Rajasthan.
01 May 2003DA-IICT University Act passed by Gujarat Legislative Assembly comes into effect.

06 March 2003Government of Gujarat confers University status on DA-IICT through an Act of Gujarat Legislature.
23 July 2002Three Post-Graduate programs, MTech (ICT),
M Sc (IT) and MSc (ICT-Agriculture & Rural Development) and PhD launched.

23 March 2002First Meeting of the Academic Council held at Chitrakoot, Worli, Mumbai.

28 January 2002First Meeting of the Board of Governors held at Reliance Center, Mumbai.
29 October 2001DA-IICT registered as a Society and Trust under the Societies Registration Act, 1860 and the Bombay Public Trust Act, 1950, respectively (Society Registration No. GUJ/861/GANDHINAGAR).

06 August 2001The Institute becomes operational with the commencement of Classes for its B Tech in Information & Communication Technology (ICT) program.

27 July 2001First Counseling of the B Tech (ICT) program held at DA-IICT Campus, Gandhinagar.
29 December 2000Laying of Foundation Stone of the Institute by ShriKeshubhai Patel, Hon'ble Chief Minister, Gujarat.

07 June 2000Signing of MOU between RIL and Government of Gujarat for the establishment of DA-IICT.
displayNone
displayNone
Annual Report
displayNone
displayNone
Collaboration & MoUs
Indian Institute of Technology, Jammu, Kashmir
For academic and research collaboration particularly, to design and offer teaching programs leading to Degrees. The MoU also stipulates joint collaboration in organizing research conferences, seminars and workshops, conducting joint continuing education and training programs, exchange of faculty, staff and students for the purpose of education/research, jointly guide Doctoral Research Scholars and exchange information on teaching, learning and other materials relevant to each other's educational and research programs.
Universiti Teknologi Mara, Malaysia
To jointly engage in research, exchange of students for periods of study and/or research, joint guidance of students on projects and theses, exchange of faculty and staff and organize joint seminars, conferences and meetings on research issues
Junagadh Agricultural University, Junagadh, Gujarat
To design and conduct short duration courses for JAU students, establish collaboration between faculty on teaching courses, guide students on internships, research and theses particularly, in the areas of application of Artificial Intelligence, Robotics and Drone Technology in Agriculture and allied disciplines, undertake joint research projects,organize conferences, seminars and meetings on research issues.
Sardarkrushinagar Dantiwada Agricultural University, Gujarat
To co-operate in teaching and research for the advancement and dissemination of learning, plan and execute research projects and experiments, collaborate in guiding students on their project and thesis work and organize conferences and seminars.
Wayne Agtech Private Limited, Vadodara, Gujarat
To collaborate on research for development and training, exchange researchers and other staff for participating in research, teaching and training, support students for research and career opportunities.
Macak Technologies LLP, Gandhinagar, Gujarat
To sponsor research programs and institute Doctoral Fellowships at DA-IICT titled as 'Macak Research Scholars.'
Bennett University, Noida
To collaborate with Leadingindia.ai, one of the largest nation-wide initiative on skilling and research in Deep Learning and Artificial Intelligence Technologies. This project has the potential to change the landscape of Artificial Intelligence research in India.
University of Evora (Universidade de Evora), Portugal
For academic exchange, collaboration in teaching, research and exchange of scientific materials and publications, for advancement and dissemination of learning. Under the provisions of the MoU, DA-IICT is one of the Asian University Partners with the University of Evora in the Erasmus Mundus Fellowship Program of the European Commission.
University of Hildesheim (Stiftung Unversitat Hildesheim), Hildesheim, Germany
For academic and research collaboration, exchange of faculty, staff and students and exchange of academic information, scholarly information, materials and publications.
University of Swaziland (UoS), Swaziland
For academic exchange, research and faculty development of UoS for the advancement and dissemination of learning.
The Government of Gujarat
To mentor the Indian Institute of Information Technology, Vadodara set up on Public Private Partnership (PPP) model by the Central and State Governments and Industry.
Indian Navy
To admit eligible candidates sponsored by the Navy for M Tech and other advanced courses including PhD, joint research and development and training.
Space Application Centre, Indian Space Research Organisation
To carry out joint activities between the two institutions which will include research projects; doctoral studies of SAC officers at DA-IICT, internship of PG students at SAC, training of SAC officials, visit of faculty to SAC and SAC scientists to DA-IICT for research and academic pursuits, joint workshops and conferences.
INFLIBNET Centre, Inter-University Centre of the University Grants Commission
To participate in digitization of theses and dissertations and building-up of digital repository and to promote, share and host DA-IICT's electronic theses and dissertations in 'Shodhganga.'
ICICI Bank
Signed MoU to participate at the ICICITrinity Program. The Program encourages and promotes students' talent with a view to bring forth new ideas and innovations which can be applied in the banking/finance industry and help in their commercialization. The Program supports final year UG/PG students of five students team. In case of PhD Scholars, single Scholar can seek support.
Institut Superieur D'Electronique De Paris, France
For exchange of faculty, students and joint research. University of Dayton, USA: To develop academic exchange and co-operation in teaching and research for the advancement and dissemination of learning.
University of Antwerp, Belgium
To exchange faculty, students and for scientific co-operation.
International Crops Research Institute for the Semi-Arid Tropics, Hyderabad
To participate in teaching, training and research; explore external funding opportunities for research, exchange and host students and scholars for research and degree programmes by each other and exchange scientific materials and publications.
Indian Statistical Institute
For visit of faculty to participate in joint teaching,research, and conferences; visit of students to each other Institutes for short term courses, internships or mini projects; prepare, as necessary, additional working programs detailing specific norms and contents of co-operation and to exchange scientific materials and publications.
Indian Institute of Technology, Gandhinagar
To collaborate on teaching and research and exchange of scientific and academic personnel.
Reliance Communications Limited
To institute the Research Chair to lead research and education in Computational Science and setting up of a Computational Science Laboratory at DA-IICT.
Tata Consultancy Services
To nominate suitable full time PhD candidates of DA-IICT for the TCS Research Scholar Program.
Erricsson India Private Limited
To impart trainings to the B Tech students who have completed their sixth semester of studies at DA-IICT and consider employment of the certified students with Erricson India.
eiTRA-einfochips Institute of Training Research and Academics Limited, Ahmedabad
To train and upgrade the skills of eiTRA employees, conduct lectures for academic programs offered by Ganpat University, provide consultancy and guidance for technological research and project execution, facilitate DA-IICT students to carry out their internship and project work at eiTRA-einfochips and jointly offer continuing education programs.
Ramakrishna Sarada Sevashram, Bastar
To sponsor eligible candidates for PhD studies at DA-IICT, develop and support joint research programs and conduct specialized courses.
Springer Science+Business Media Singapore Pte Ltd
To publish jointly books and individual titles authored by faculty, researchers and doctoral scholars of DA-IICT following the Springer's norms of copyrights and editing and market them worldwide through Springer's network.
Entrepreneurial Development Institute of India
To collaborate in mutually selected projects with a view to share expertise for tackling problems relating to ICT, entrepreneurship, socio-economic development etc., involving exchange of personnel, organization of joint conferences, teaching and training programs.