Dhirubhai Ambani Institute of Information and Communication Technology (DA-IICT) has achieved yet another milestone by receiving a prestigious NAAC Grade A+ accreditation.
The National Assessment and Accreditation Council (NAAC), an autonomous body funded by the University Grants Commission (UGC), is responsible for evaluating and accrediting higher education institutions in the country. The NAAC Grade A+ accreditation is a testament to DA-IICT's commitment to academic excellence, infrastructure, faculty quality, and overall educational standards.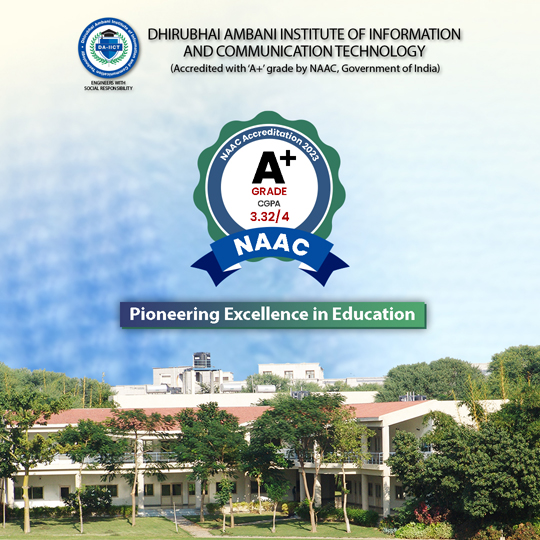 The NAAC accreditation process is rigorous and involves a comprehensive evaluation of various aspects of an institution, including Curricular Aspects, Teaching-learning and Evaluation, Research, Innovations and Extension, Infrastructure and Learning Resources, Student Support and Progression, Governance, Leadership and Management and Institutional Values and Best Practices. Institutions that receive the coveted Grade A+ rating are recognized as centers of academic excellence in the country.
DA-IICT has consistently strived for excellence in the field of information technology and communication. The institution's commitment in providing quality education, fostering innovation, and promoting research has been acknowledged through this accreditation. This achievement reflects the dedication and hard work of the faculty, staff, parents, alumni and students at DA-IICT.
Dr. KS Dasgupta (Director) DA-IICT, expressed his joy at the institution's achievement, saying, "Receiving the NAAC Grade A+ accreditation is a significant milestone for DA-IICT. It reaffirms our commitment to providing top-notch education and research opportunities in the field of information and communication technology. This recognition will further motivate us to continue our pursuit of excellence." The Grade A+ accreditation will not only enhance the institution's reputation but also attract top talent, both in terms of students and faculty, from across the country. It will also open up new opportunities for collaboration with other renowned institutions and research organizations.
DA-IICT's achievement of NAAC Grade A+ reflects its dedication to providing a world-class education in the ever-evolving field of information technology. This milestone sets a high standard for educational institutions in India and demonstrates the institution's commitment in shaping future leaders and innovators in the technology sector.
With this accreditation, DA-IICT stands as a beacon of excellence in higher education, contributing to the advancement of knowledge and technology in India and abroad.
NAAC Peer Team Visit