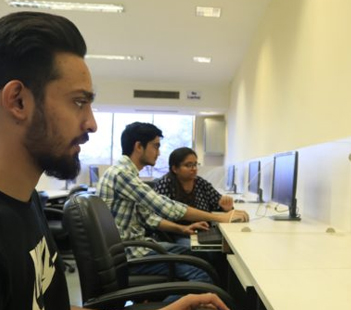 Master of Technology in Information and Communication Technology – MTech (ICT) is a fulltime two-year (four semesters) program. The program has been specially designed to meet the increasing needs of professionals who would be able to respond to the convergence between computers and communication systems. The program aims to provide exposure to students who wish to build a professional career in ICT, working at the intersection of technology, research, and development in the areas of Machine Learning and applications to speech, image and vision, natural language processing and others, Data Analytics, Cyber Security, Distributed Computing, Software Engineering, Embedded Systems, VLSI Subsystem Design, FPGA, Low-power VLSI Design and Nano electronics.
The Program curriculum includes multiple specializations tracks that provide a strong foundation and advanced courses in each track. This program tries to leverage the strength and diversity of our faculty and currently offers the following specialization tracks:
The M.Tech. program provides students with a rigorous understanding of both fundamentals and advanced knowledge in desired areas of specialisation. The graduates of the program would be well-positioned to work in the fast-growing ICT industry or to pursue a doctoral degree.
Students of the M.Tech. program are required to complete a set of program core courses, general elective courses, specialization core courses and specialization elective courses. The program structure is designed to allow a wide choice of electives in desired areas of specialisation. Apart from the courses, the students must complete two projects, a minor project in Semester 2 and Major project I spread over the summer semester and semester 3. The project components provide the students an opportunity to undertake directed research work under the supervision of a faculty mentor. In semester 4, a student can opt for Major project II, in continuation with Major project 1, or pursue an internship in the industry. Students interested in a thesis must enrol for Major project II in semester 4.
Each student joining the program will be assigned a faculty advisor who will provide general academic guidance and support to the student.
Programme Outcomes (POs)
| PO No. | Program Outcomes |
| --- | --- |
| PO1 | Engineering knowledge: Apply the knowledge of mathematics, science, engineering fundamentals, and an engineering specialization to the solution of complex engineering problems. |
| PO2 | Problem analysis: Identify, formulate, review research literature, and analyze complex engineering problems reaching substantiated conclusions using first principles of mathematics, natural sciences, and engineering sciences |
| PO3 | Design/development of solutions: Design solutions for complex engineering problems and design system components or processes that meet the specified needs with appropriate consideration for the public health and safety, and the cultural, societal, and environmental considerations. |
| PO4 | Conduct investigations of complex problems: Use research-based knowledge and research methods including design of experiments, analysis and interpretation of data, and synthesis of the information to provide valid conclusions. |
| PO5 | Modern tool usage: Create, select, and apply appropriate techniques, resources, and modern engineering and IT tools including prediction and modeling to complex engineering activities with an understanding of the limitations. |
| PO6 | The engineer and society: Apply reasoning informed by the contextual knowledge to assess societal, health, safety, legal and cultural issues and the consequent responsibilities relevant to the professional engineering practice. |
| PO7 | Environment and sustainability: Understand the impact of the professional engineering solutions in societal and environmental contexts, and demonstrate the knowledge of, and need for sustainable development. |
| PO8 | Ethics: Apply ethical principles and commit to professional ethics and responsibilities and norms of the engineering practice. |
| PO9 | Individual and team work: Function effectively as an individual, and as a member or leader in diverse teams, and in multidisciplinary settings. |
| PO10 | Communication: Communicate effectively on complex engineering activities with the engineering community and with society at large, such as, being able to comprehend and write effective reports and design documentation, make effective presentations, and give and receive clear instructions. |
| PO11 | Project management and finance: Demonstrate knowledge and understanding of the engineering and management principles and apply these to one's own work, as a member and leader in a team, to manage projects and in multidisciplinary environments. |
| PO12 | Life-long learning: Recognize the need for, and have the preparation and ability to engage in independent and life-long learning in the broadest context of technological change. |
Programme Specific Outcomes (PSOs)
After successful completion of the MTech program students will have:
| PSO No. | Program Specific Outcomes (PSOs) |
| --- | --- |
| PSO1 | To apply the theoretical concepts of computer engineering and practical knowledge in analysis, design and development of computing systems and interdisciplinary applications. |
| PSO2 | To work as a socially responsible professional by applying ICT principles in real-world problems. |
Program Outcomes (POs) & Course Outcomes (COs) of The Program
Semester-Wise Program Structure
Semester I
Courses
Total Credits:
General Elective-I
15
General Elective-II
Program Core-I
Program Core-II
Specialization Core-I
TWO general elective courses of 6 credits. One course is to be taken from a basket of designated mathematics courses. The other course is to be taken from a basket of designated technical elective courses. These baskets may include upper level undergraduate courses or refresher courses.
TWO program core courses of 5 credits. These courses are common to students of all specializations. The courses are:

Communication Skills and Technical Writing (2 credits)

Programming Lab (3 credits)

ONE specialization core course of 4 credits.
Semester-II
Courses
Total Credits:
Specialization Core-II
14
Specialization Elective-I
Specialization Elective-II
Minor Project-I
ONE specialization core course of 4 credits
TWO specialization elective courses of 7 credits
ONE minor project of 3 credits. The minor project is a supervised project under the guidance of a faculty mentor.
Summer
| Courses | Total Credits: |
| --- | --- |
| Major Project-I | 04 |
Major Project I (0-0-8-4). The major project I is a supervised project under the guidance of a faculty mentor. During the summer, the student undertakes preliminary work leading to the problem definition/formulation. The faculty mentors for minor project and major project I may be same or different.
Semester-III
Courses
Total Credits:
Specialization Elective-III
13
Specialization Elective-IV
Major Project-I
TWO specialization electives of 7 credits
Continuation of major project I- Summer (0-0-12-6)
Semester-IV
Courses
Total Credits:
Major Project-II
OR
Industrial Training Project
12
Major project II OR Industrial Training Project
In this semester, a student can choose to do major project II on campus or undertake an internship in industry. If the student undertakes major project II, it must be a continuation of Major project I.
Note: Upon successful completion of major project II, student is awarded a thesis certificate.
Total course credits: 33
Total project credits: 25
The curriculum mandates a total of 58 credits, 33 earned through coursework and 25 credits earned through the minor and the major projects and/or internship. Out of the 33 required coursework credits, 13 credits are allocated to compulsory (core) courses, and 20 credits are allocated to electives.
The distribution of courses for M.Tech. (ICT) degree is as under:
| Subject Area | Number of Credits |
| --- | --- |
| Program Core courses | 5 |
| Specialization Core courses | 8 |
| Specialization Elective courses | 14 |
| General Elective courses | 6 |
| Minor/Major Project | 25 |
| Total Credits: | 58 |
Note: Each student joining the program will be assigned a faculty advisor who will provide general academic guidance and support to the student.
Admission Process
Details on the application process, admission criteria, fee structure and financial assistance can be found here